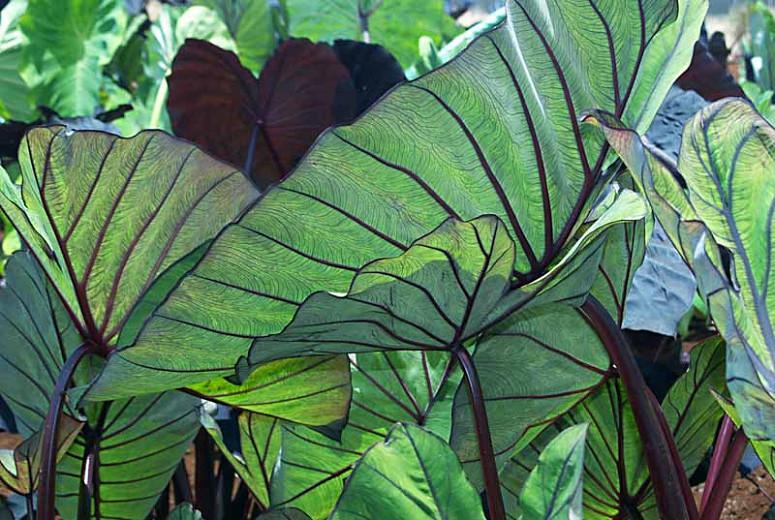 Planting Elephant Ear Plants in your Garden:
Select a location in full or part sun with quality soil that is moist, rich, and organic.
To properly prepare the bed for growing elephant ears, start by turning the soil under to a depth of 8 inches. After, level the soil with a rake to remove clumps of grass and stones.
Most elephant ear plants respond well to soils amended with organic matter. Compost is a nutrient rich form of organic matter that has an ideal pH level, and can be added to your planting area at any time. If compost is not available in your area, then top dress the soil after planting with 1-2 inches of organic mulch, which will breakdown into compost over time. After the growing season, you can test the soil to find out what amendments are needed for the following season.
Plants should stand 2-4 feet apart in the garden.
Dig a hole for each plant large enough to amply accommodate the root ball.
Set level with or a little deeper than the surrounding soil. Fill with soil to the top of the root ball. Press soil down firmly with your hand leaving a slight depression around the plant to hold water.
Water thoroughly, so that a puddle forms in the saucer you have created. This settles the plants in, drives out air pockets and results in good root-to-soil contact.


How to Grow Elephant Ears
Growing Elephant Ears In Your Garden
TropicsPlants is your internet source for buying elephant ears plants. Our online Plant selection ensures the best selection of internet plants available. Check out our wide selection of other tropical plants, subtropical plants and norther temperate climate plants.